Pickling cucumbers are just coming in. Why not lay in a few pounds for summer hot dogs and sandwiches? I prefer a naturally fermented cuke. Not merely because I love process, but because I think fermentation gives better depth of flavor.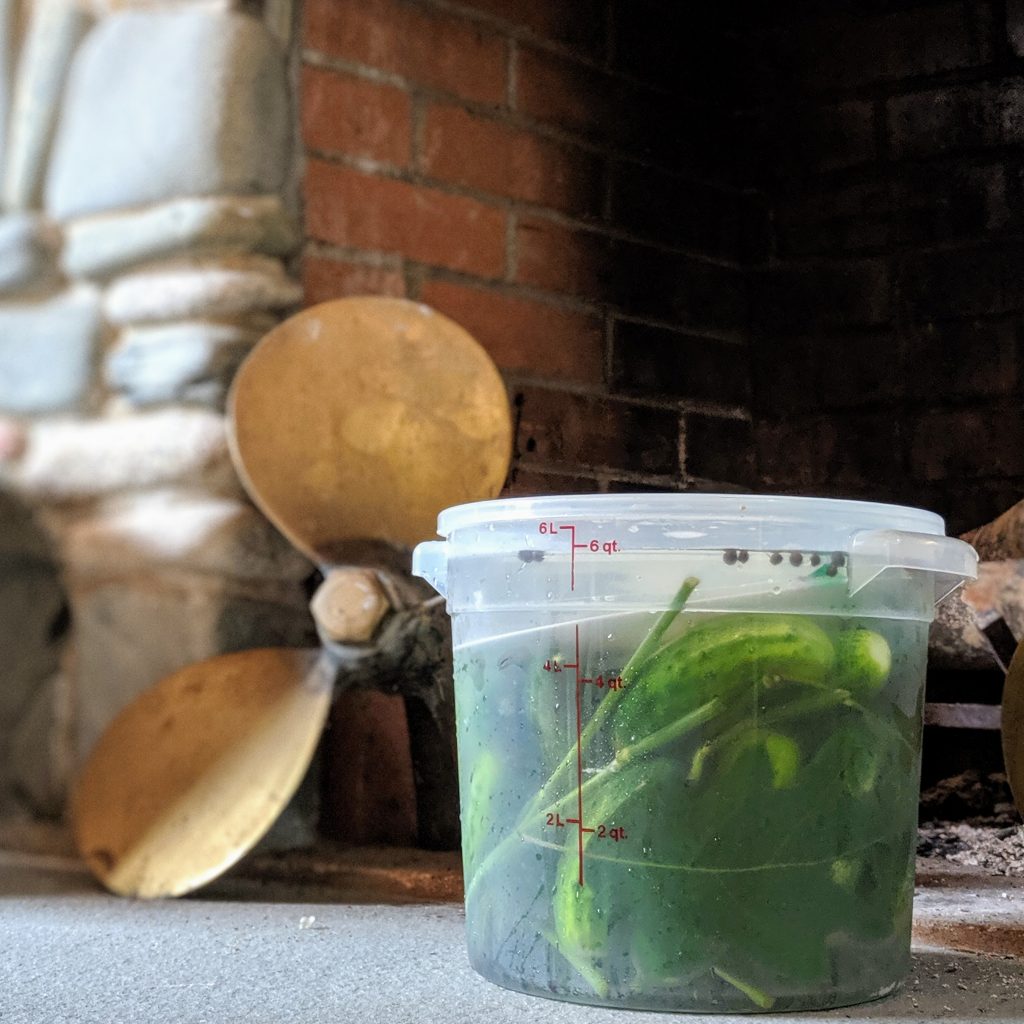 The general idea: 3-5% brine, a few days out of the fridge to get things started, and then slow things down in the fridge. (We're getting highs of around 75-80ºF, which is a little too hot to get a nicely crunchy pickle.)
Some nuance: smaller cukes ferment more quickly and evenly. Clean them well and take off the scar at the blossom end. The stem is fine, but the blossom end can taste bitter and even lead to soft cukes.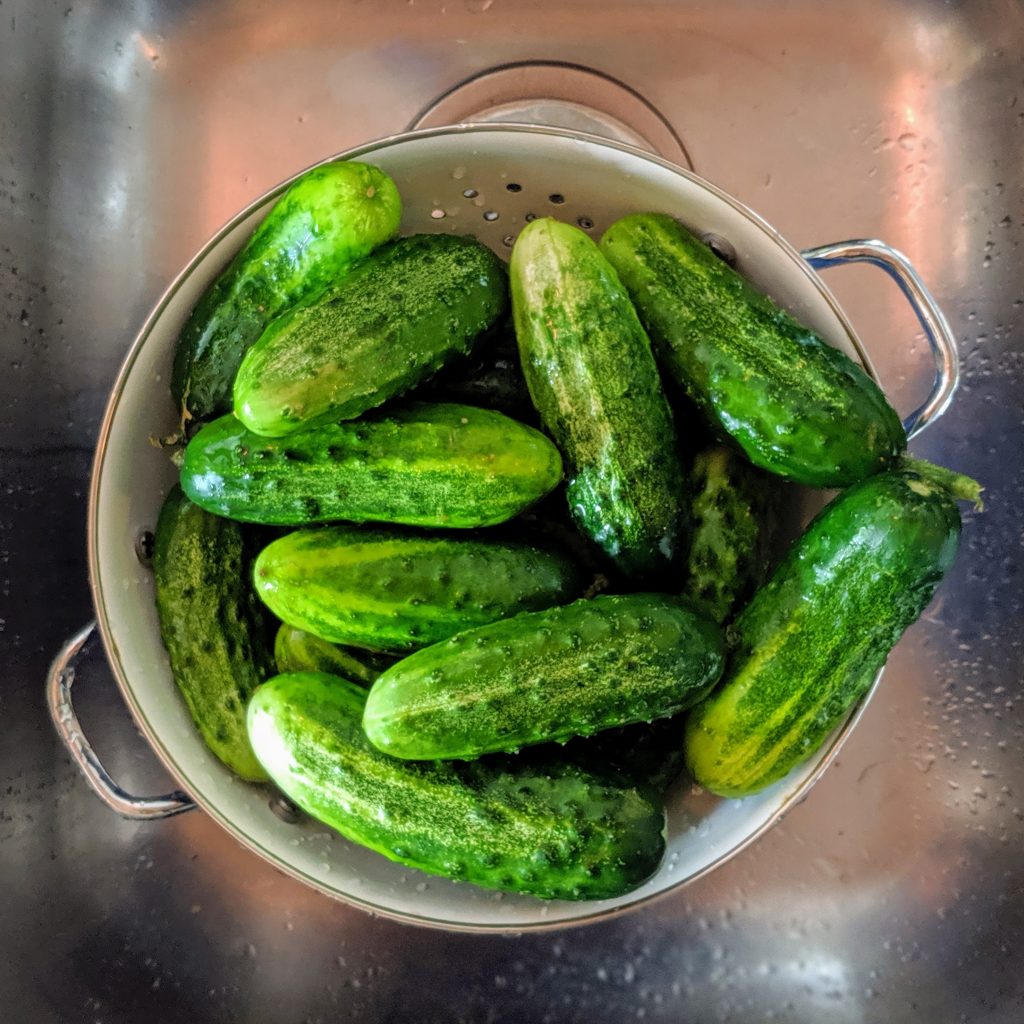 Some more nuance: aromatics. Dill is in the name, and dill leaf is nice—but nothing beats the flavor of heads of dill. A bit of dried chile, some garlic, and black pepper round things out. In this batch, I added bay and a few oak leaves—the tannin from the oak helps keep the pickles crunchy (and adds, I think, a nice bass note to the flavor).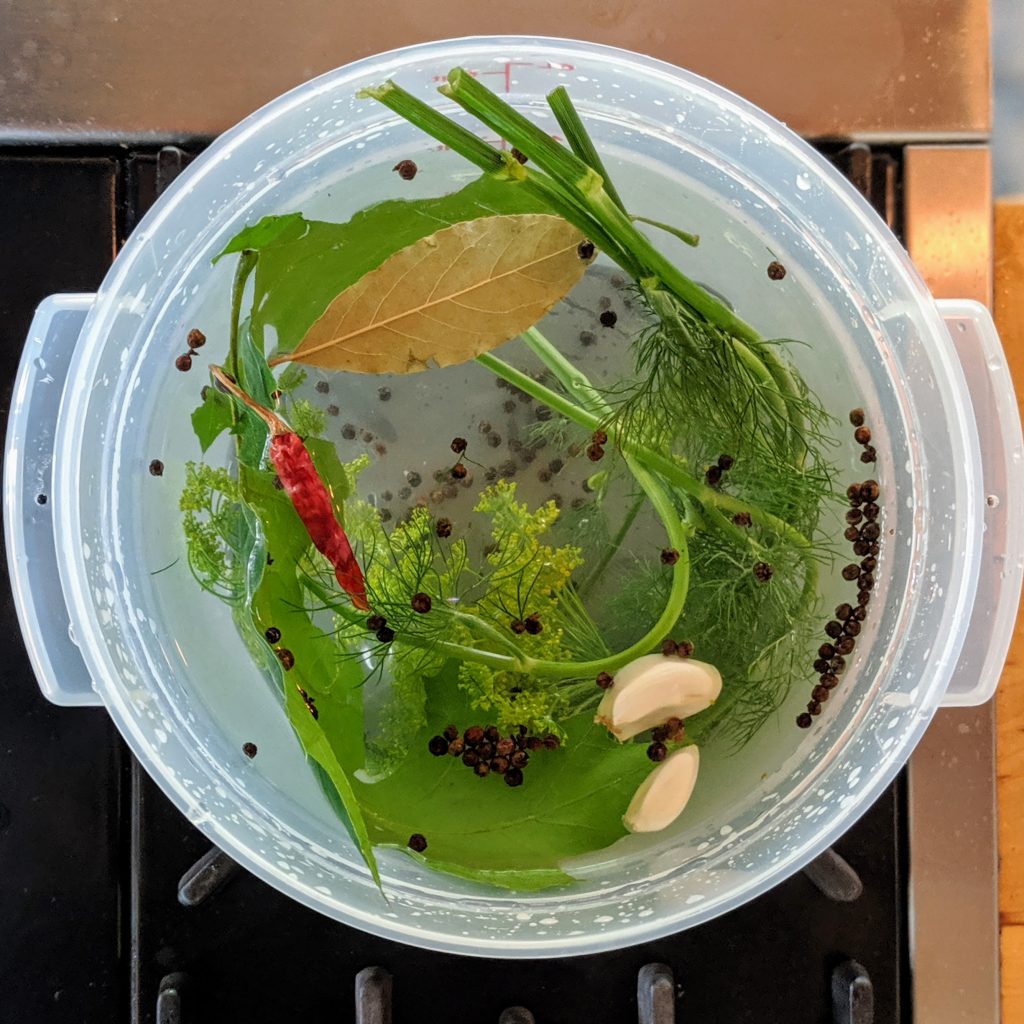 I more or less followed Alton Brown's approach. Here's what I put in:
Dill pickles
Prep time: 15 minutes
'Cook' time (but YMMV): 7 days
1.66kg pickling cukes, scrubbed and washed, blossom-end cut
3.78L water
155g coarse sea salt
7g black peppercorns
6 heads of dill with stalks and some leaves
2 oak leaves
2 cloves of garlic, lightly crushed
1 chile de arbol
1 bay leaf
Mix salt and water with a whisk in a 6L tub; reserve a plastic big with some of the brine. Add the aromatics, then the cukes. Push cukes down with a plate, put sealed bag on top, and cover tub.
You'll have half sours in a day or two; move the whole tub to the fridge once it's clear fermentation has started (brine fizzy, cukes tasting 'pickly').