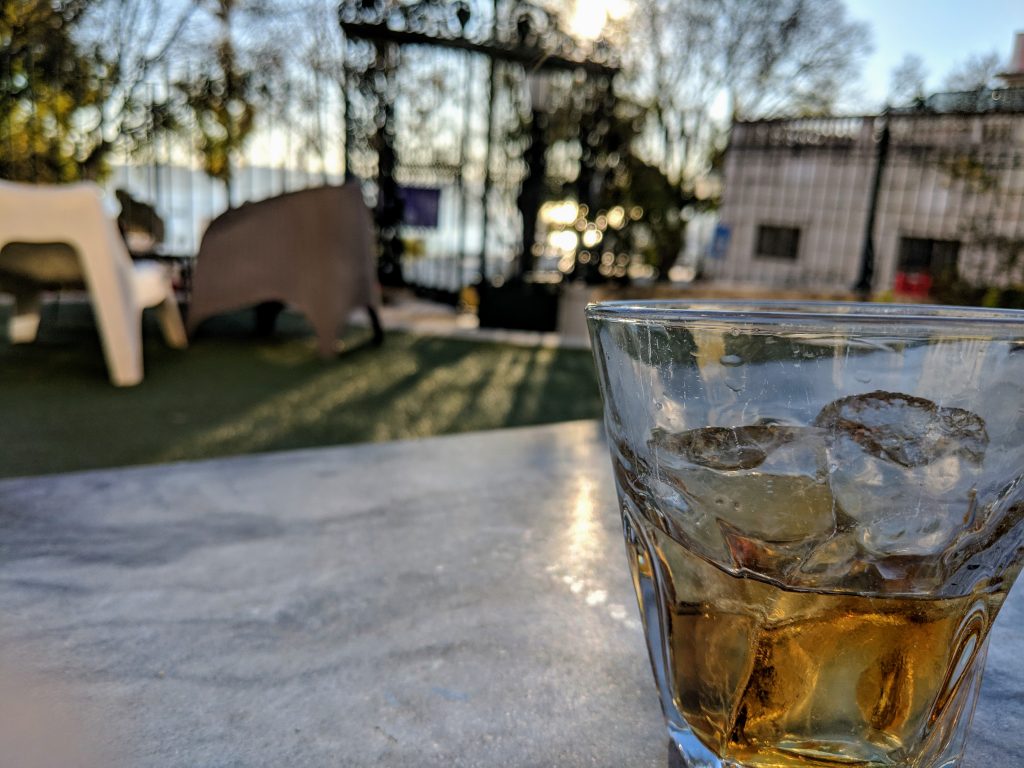 We tasted 8 sweet vermouths:
Carpano Antica
Cinzano
Cocchi
Dolin
Dubonnet
Lo-Fi
Martini & Rossi
Punt e Mes
Yes, I know, we should have included Vya. There was a real mix of tasters: Dave, Hannah, and I are serious cocktail folks; Tessie is a serious appreciator; and Michael and Kari are serious about wine but new to vermouth.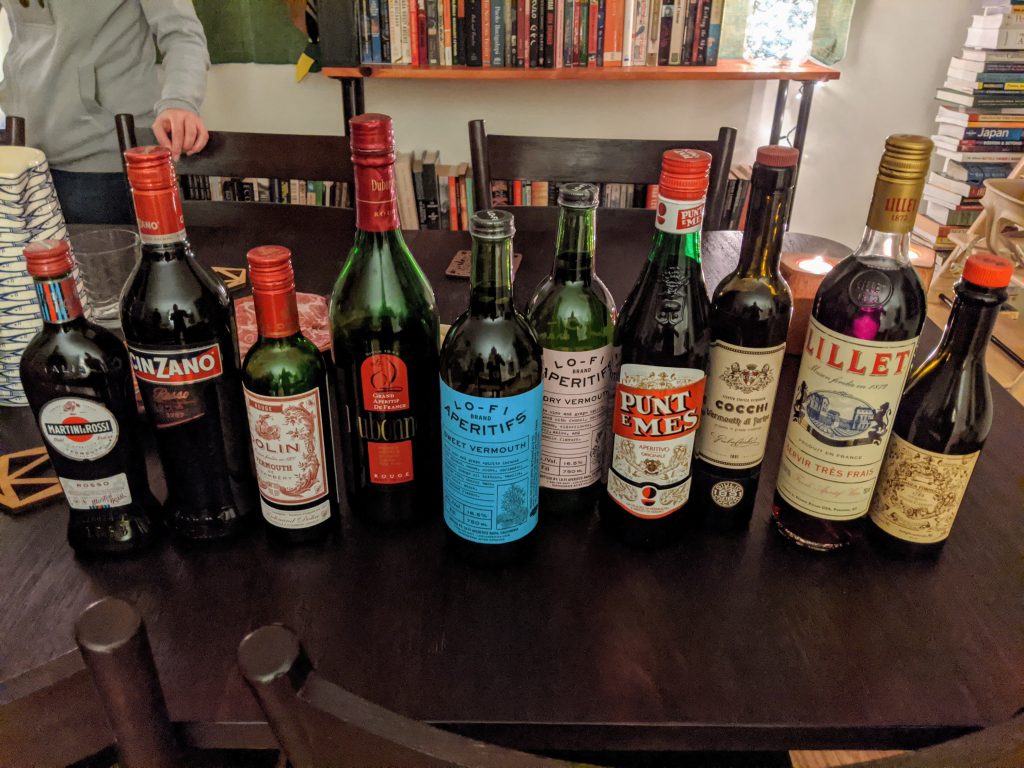 We tasted in two phases: first, we tasted each vermouth alone in a glass (with optional ice); only Hannah knew which was which. Once we'd narrowed down the range, we tasted a few in Negronis.
The Vermouth Stands Alone
Here are the tasting notes from the first phase, in the order we tasted:
Cinzano
"Kind of like wine, but awesome" –Dave
Fennel, blended and fresh herbs. Berry. Slightly bitter at the end.
Punt e Mes
Smells like licorice. Fuller body, dark. Longer aftertaste, very bitter at the end. Orange pith, tannin. Tastes much sweeter on ice.
Carpano Antica
Licorice, but not nearly as bitter; sweetness fades into fresh herbs. Well integrated.
Lo-Fi
Sweet, floral, pineapple, passion fruit, chocolate. Tiki.
Martini & Rossi
Charred wood, leathery smell, cedar. Easy to drink, pleasant. Relatively thin.
Cocchi
Musty, butterscotch smell. Syrup. Gets very sweet and cloying at the end. Less herbal at the end, very bitter to start.
Dubonnet
"Turned" –Michael "Like a port" –Kari
Pruny, vanilla, caramel. Not fresh.
Dolin
"Ok, I like it" –Tessie
Woody. It has a top note. Brightest of them all, light body, some herbal thing.
We later discovered that Dave had kept the Dubonnet Rouge bottle at room temperature for over a year, so turned is right! Keep your vermouth in the fridge, folks.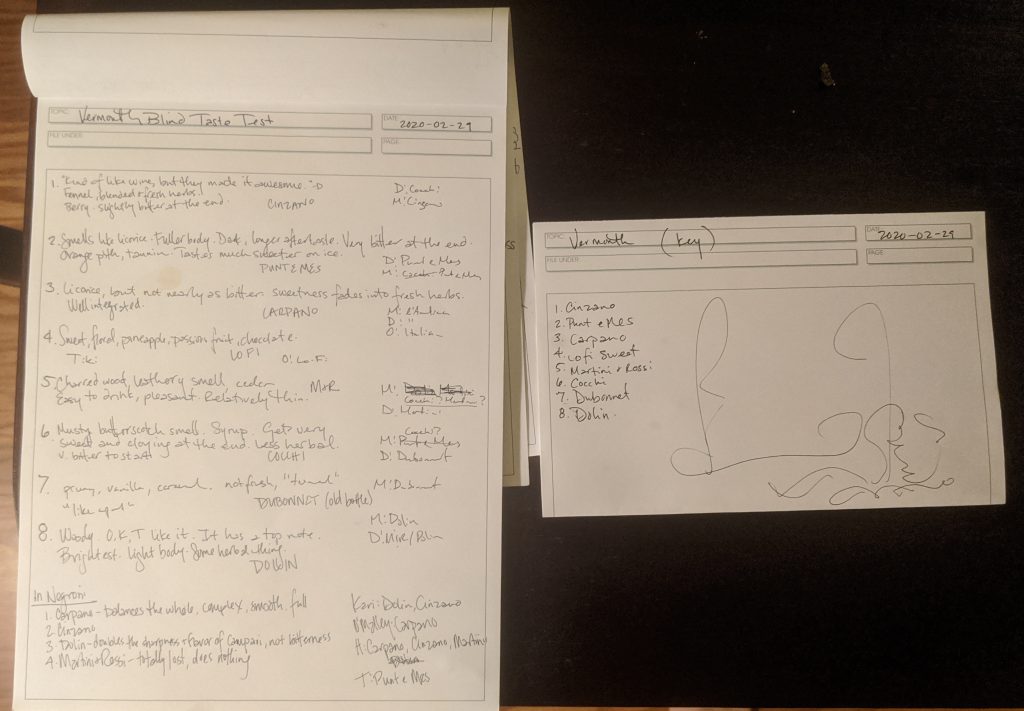 Better Together (In a Negroni)
We selected four to make Negronis out of: Carpano, Cinzano, Dolin, and Martini & Rossi. We used Old Tom gin and a 1:1:1 ratio, no extra citrus. Our notes:
| | |
| --- | --- |
| Carpano | Balances the whole. Complex, smooth, full. |
| Cinzano | [no notes] |
| Dolin | Doubles the sharpness and flavor of the Campari—but not the bitterness. |
| Martini & Rossi | Totally lost, does nothing. |
So the bad news is that Carpano is pretty clearly the crowd favorite, but also pretty clearly the most expensive vermouth you'll find! But the good news is (a) they sell half bottles, and (b) folks liked others, too. Kari liked Dolin, too; Hannah liked Cinzano and Martini & Rossi; Tessie enjoyed Punt e Mes.
A final word about the Lo-Fi sweet and dry vermouths: they are absolutely unlike any other vermouth I've ever had. Just crazy town, all over the place flavors. I can't imagine drinking the sweet on its own, but I can imagine using the crazy tiki flavors in both of their vermouths as accents in cocktails.